Cleaning
QUICKSOLV DEF 90
Multi-purpose cleaner for degreasing & defluxing
Immersion, flushing & manual cleaning at ambient temperature
Non-flammable & fast evaporation
QUICKSOLV DEF90
QUICKSOLV DEF90 is a multi-purpose industrial cleaner for manual cleaning of oils, greases, organic residues & solder flux residues. Thanks to its low surface tension and reactive substances it permits to solubilize most of organic pollutants. Its fast evaporation allows substantial reduction in cleaning time.
QUICKSOLV DEF90 is a non-flammable product and is a drop-in replacement for flammable solvents like gasoline, isopropanol or acetone or any flammable cleaning products. It's formulated with safety, health of operators and environment in mind.
It can be used for many applications:
Maintenance of mechanical parts
Degreasing of low volume production of metal parts in micromechanical & mechanical industry
Defluxing of printed circuits in rework or low volume production.
Removal metals particles in additive manufacturing
It can also remove certain residues of glue, varnish, coatings or polymerized materials, but subject to prior tests.
This is not a product
Although fully in line with safety & environmental regulations, this product doesn`t match our strict criteria to be labelled as a Greenway product.
LOOKING FOR A MORE SUSTAINABLE SOLUTION?
GREENWAY ALTERNATIVE
We currently don`t have a Greenway alternative but our target is to develop one in the near future. In case you want us to prioritize the development of a Greenway alternative, do not hesitate to contact us.
Discover more about Greenway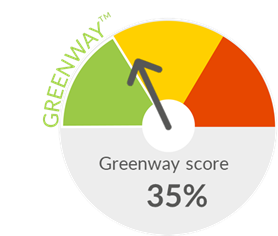 Benefits
PERFORMANCE
Removal of all type of organic residues
Fast, efficient and easy cleaning
Compatible with all metals
COST
Can also be used in a tank without heating
Reduce cleaning time
HSE
Non-toxic & no CMR substances
Low environmental impact: low GWP, No ODP
Non flammable & no flash point – safe substitution to IPA & other flammable cleaners
PROCESS RECOMMENDATION
QUICKSOLV DEF 90 is only suitable for cleaning at ambient temperature. For cleaning by spray with non-flammable aerosol packaging, QUICKSOLV DEF 70 can be used.
MANUAL APPLICATION

In immersion process, it is not recommended to use ultrasounds continuously to avoid a rise of temperature. When using ultrasounds check temperature regular and control.
The cleaning time depends on the amount of residue and time between each maintenance. We recommend frequent cleaning for a more efficient cleaning process. Regular cleaning decreases the overall cleaning time and consumption of cleaning chemistry
A dedicated compatibility report of QUICKSOLV DEF 90 with different materials is available on request.