Cleaning
PROMOCLEAN TP 178
Removing oxides, mineral residues & diamond liquid polishing
Aqueous immersion process with ultrasonics
Substitute for phosphoric acid based cleaners
PROMOCLEAN TP 178
PROMOCLEAN TP 178 is especially designed for removal of oxides, minerals residues (such as lime scale or finger traces) and diamond liquid polishing in an aqueous immersion process. Having an acid pH, it provides excellent cleaning performance and can be used on most metals such as Inox, ferrous alloys, Copper, Titanium, Aluminium, Gold & Silver. This product can also be used as a brightening agent to make brass & light alloys more shiny. However, the right dilution and process parameters need to be confirmed. It is a concentrated product which is used diluted with DI water. Thanks to its excellent chelating properties it can be also diluted with tap water without risk of lime deposits.
From sustainability point of view, PROMOCLEAN TP 178 does not contain phosphorus compounds and helps to limit the ecological degradation of water bodies & rivers.
This is a product
MAIN CONTRIBUTORS WHICH REDUCE IMPACT:
HUMAN HEALTH & SAFETY
Non-flammable & no flashpoint, eliminating the need for explosion proof equipment or special storage & transport
Non-toxic
ENVIRONMENT PROTECTION & RESOURCES SAVINGS
No GWP
No aquatic toxicity
Does not contain phosphorus compounds
No mineral acid
Discover more about Greenway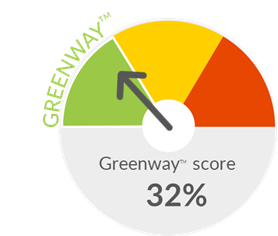 Benefits
Performance
Excellent deoxidation power
No risk of phosphating ferrous metals
Compatibility with most metals, including sensitive ones
Cost
High chelating power, reducing lime deposits
High cleaning power even at low concentration
Reduce the cost of wastewater treatment
HSE
Non-toxic & no CMR substances
Low environmental impact : No phosphorus compound
No mineral acid such as hydrochloric nitric or sulfuric acids
Process examples
The most suitable process will depend on factors such as operating conditions, equipment, desired cleaning and the nature of the contaminants. Our team is therefore there to advise you.
Diamond polishing compound removal (e.g. manufacturing of tungsten carbide cutting tools)

Dry ferrous metals immediately after rinsing to avoid corrosion.
A dedicated PCA Kit to monitor the bath status and compatibility report with different materials are available on request.
It is key to determine the maximum time materials can be exposed to the cleaning chemical. Although our cleaning products will not damage materials they are designed for under normal conditions, prolonged exposure may.