Cleaning
TOPKLEAN EL 20P
Removal of flux residues
Co-solvent process
Fastest cleaning process & sustainable solution
TOPKLEAN EL 20P
Especially designed to clean solder flux residues after reflow. It`s an upscaled formulation of TOPKLEAN EL 20A for which it received the Greenway label as sustainability features significantly improved. It is used in co-solvent process to offer a fast & sustainable cleaning process with very high cleaning efficiency. Its excellent ability to solubilize organic and minerals compounds allows it to remove almost any solder flux residues used in the electronic industry today. It also brings a shiny effect on alloys & metals.
In a Co-solvent process, TOPKLEAN EL 20P is rinsed perfectly with Hydrofluoroethers (HFE) based rinsing fluids from 3MTM NovecTM or our own PROMOSOLVTM range. Thanks to the very low surface tension of HFE, the rinsing penetrate into the very tight spaces and under low stand-off components. It will dissolve any remaining flux residues, resulting in very low ionic contamination levels. Besides, compared with a water-based cleaning system, there is no risk of corrosion due to the absence of residual water left on the boards.
The co-solvent process has been a game changer for over 15 years now and is qualified and used by several actors in the electronic industry.
This is a product
MAIN CONTRIBUTORS WHICH REDUCE IMPACT:
HUMAN HEALTH & SAFETY
Non-toxic
Low corrosive impact
Non-flammable & high flashpoint
ENVIRONMENT PROTECTION & RESOURCES SAVINGS
Low environmental impact: no H labelling regarding environment
No  GWP
Non-corrosive for equipment
Discover more about Greenway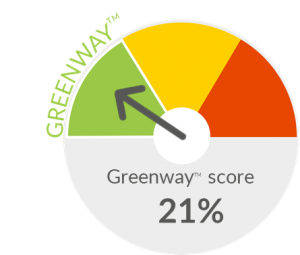 Benefits
Performance
Excellent solubility organic & mineral residues
Very low surface tension to allow excellent cleaning under low stand-off components.
Excellent compatibility with materials used on PCB's
Allows shining effect to sensitive alloys & soldered surfaces
leaves no white residues
Waterless process – reduces risk of corrosion
Cost
Fast process allows increase in production capacity
Rinsing fluid is constantly recycled, limiting consumption.
No water consumption & no need for wastewater treatment
HSE
Low toxicity & non-corrosive product (refer to the SDS)
No Ozon Depletion Potential (ODP) & no Global Warming Potential (GWP)
High flash point – safe to use, storage & transport
No aromatics & halogenated compounds