Cleaning
PROMOCLEAN DISPER 707
Aqueous cleaner for removal of flux residues
Spray in air, spray in line & immersion jet process
Excellent performance even at low concentration
PROMOCLEAN DISPER 707
Especially designed for removal of all types of flux residues on PCBA's, Power modules, lead frames, BGA's, PoP or SIP applications & LED assemblies. Its low surface tension allows very well cleaning and rinsing under low stand-off components and difficult to reach spaces.
Thanks to its excellent antifoam properties it is dedicated for water based immersion jet, spray in air and spray in line processes. The controlled alkalinity makes this product compatible with aluminium & other sensitive materials. It is a concentrated product which is used diluted with DI water and has excellent cleaning power even at 10% dillution.
This is a product
MAIN CONTRIBUTORS WHICH REDUCE IMPACT:
HUMAN HEALTH & SAFETY
Non-flammable & no flashpoint -> eliminating the need for explosion proof equipment or special storage & transport
Non-toxic
ENVIRONMENT PROTECTION & RESOURCES SAVINGS
Low environmental impact: no H labelling regarding environment
No  GWP
Very low VOC (<25% of VOC compound)
Contains partial vegetable raw materials
Discover more about Greenway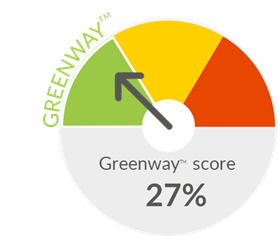 Benefits
Performance
Excellent solubilization of reflowed organic compounds
High rinsing capacity
No foaming
Protects aluminum & sensitive materials during the cleaning cycle
Cost
High cleaning power even at low concentration
Excellent long bath-life
Concentrated product allows to reduce the cost of transport & storage
HSE
Non-toxic & no CMR substances
Low environmental impact
Non flammable
Process examples
The most suitable process will depend on factors such as operating conditions, equipment, desired cleaning and the nature of the contaminants. Our team is therefore there to advise you.
AQUEOUS IMMERSED JET PROCESS


Range of dilution in water: 10% to 25% depending on flux media and contamination load.
A dedicated PCA Kit to monitor the bath status and compatibility report of PROMOCLEAN DISPER 707 with different materials are available on request.
It is key to determine the maximum time the metals can be exposed to the cleaning chemical. Although PROMOCLEAN DISPER 707 will not damage metals under normal conditions, prolonged exposure may.