Oil Removal
PROMOCLEAN DISPER 6
Removing hydrocarbon & watersoluble oils on metal parts
Detergent for spray, flush & immersed jets process
Compatible with a wide range of metals
PROMOCLEAN DISPER 6 is especially designed for removal of hydrocarbon- and especially watersoluble oils. Thanks to its excellent antifoam properties it is dedicated for aqueous spray, flush or immersed jets processes. Despite having a high alkaline pH to allow efficient cleaning, it doesn't damage sensitive metals or alloys, like Inox, Brass, ferrous alloys & Titanium, Aluminium, Copper or Brass. It`s a concentrated product which is used diluted with DI water.
PROMOCLEAN DISPER 6 is qualified and used by several actors in the  automotive & medical industry.
This is a product
MAIN CONTRIBUTORS WHICH REDUCE IMPACT:
HUMAN HEALTH & SAFETY
Non-flammable, no flashpoint & no EUH risk phrases: 100% safe for storage and when used in equipment
Non-toxic
ENVIRONMENT PROTECTION & RESOURCES SAVINGS
Low environmental impact: no H labelling regarding environment
No GWP & Very low VOC (<25% of VOC compound)
Relative low cost for waste destruction
Discover more about Greenway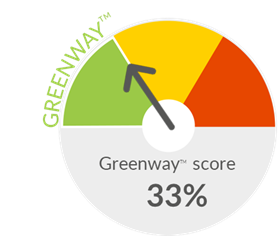 Benefits
PERFORMANCE
Compatibility with Inox, Ferrous alloys, Aluminum, Brass & light alloys
Excellent solubility of water-based oils.
Short rinsing time needed, despite being a high pH product.
COST
High cleaning power even at low concentration
Long bath-life
HSE
Non-toxic & no CMR substances
Low environmental impact
Non-flammable